Item in production, available only for pre-order
 – Sharp clairvoyance –




 – Strong Magic – 
Gambling is only risky when you don't know the outcome. Look Lady Luck straight in the eye and laugh. With Mental Dice in hand, you embrace certainty and confidence.
Invite your spectator to fully examine and roll the three dice, with your back turned, you PREDICT the NUMBER and COLOR of EACH die with steadfast conviction. You are prepared for this moment.
You hand the dice to another spectator, but this time you LEAVE the room, they roll the die, incredibly, you are able to foresee (with 100% success) the number rolled and corresponding.
And it's not over yet. You can, thanks to Mental Dice, know exactly what position all the dice are in, whether they are in the spectator's hand, under a cup or even in another room !
---
 !! NEW PEEK !! 
 LUC LANGEVIN & MENTAL DICE by MARC ANTOINE

Send an email to your spectator, and you confirm receipt.
Then ask him/her to throw the dice and place them in your open hand palm upwards to show the combination.
Unbelievable, the spectator opens the mail and discovers the picture of the combination in your hand !
---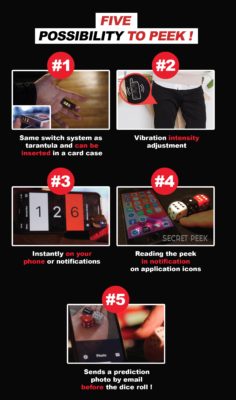 ---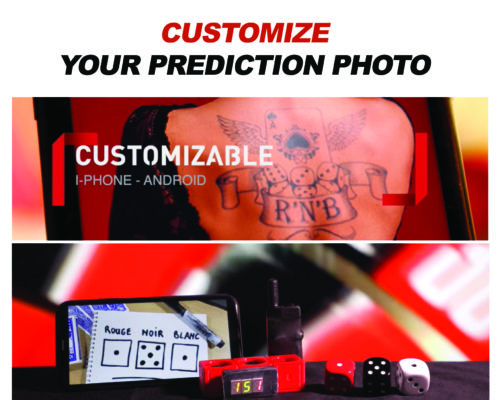 The photo can be personalized on request for $60.
---
 THUMPER CONNECT 
Can be used with one die only !
 Works with all mental dice in circulation 
Vibration thumper is fully configurable
---
 Features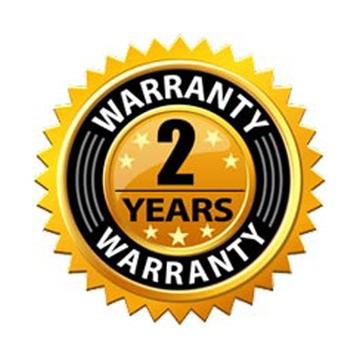 Connects via Bluetooth
iPhone iOS 10 & Android 6.0 compatible
---
 Content 
3 dice + pen case
Miniature display
Attach it to the inside of your belt!
USB charging cable
Thumper (optional)
Access app (optional)
Notice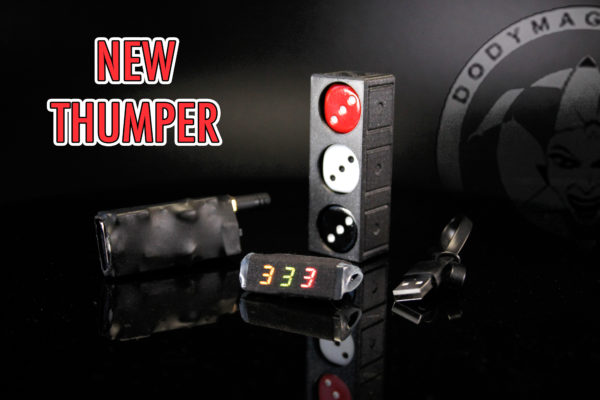 ---
 Mental Dice app : the revolution app 

 I would like to personally thank Vincent Tarrit for his help and the creation of the Magic APP : Wonderful work!